The Latest from Lodge 572...
January Newsletter & Calendar Online
The newsletter and calendar for January 2020 are now available online. To view and/or print them, use the links in the navigation menu on the left.
Glo Bingo
On Saturday, January 18th, we will have Glo Bingo at the Lodge. Doors open at 6:00 pm, bingo starts at 7:00 pm. Entry is $20 in advance, $25 at the door. Entry includes 6 bingo cards for 10 games, a glo hat and dobber. Additional 6 cards can be purchased for $5. Tickets available at the Lodge or contact Darcie at (618)521-6050. Over $1000 cash prizes will be given out. There will be a cash bar and food will be available for purchase. You must be 18 years or older to attend.
Keeping Local Youth On Target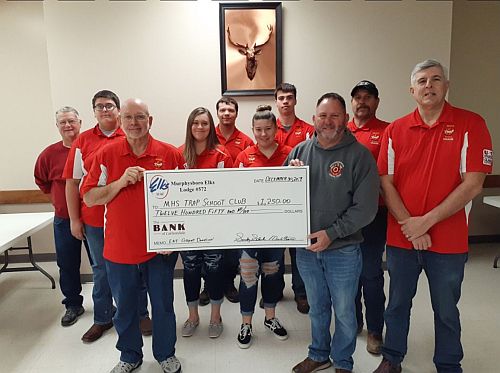 Accepting a donation of $1,250.00 from Elks Lodge #572, are coaches (C) and members (M) of the Murphysboro High School Trap Shoot Club. Pictured, L-R, are: Sonny Heine (C); Braden Tripp (M); Dave McClure (C); Maddie Bean (M); Collin Ferguson (M); Lorran Crabtree (M); Rewn Stearns (M); Richard Martin, E.R.; Brian Tripp (C); and Scott Strack (C). The money came from an ENF Grant earned by our Lodge for its fundraising for the Elks National Foundation.
Helping Area Cub Scouts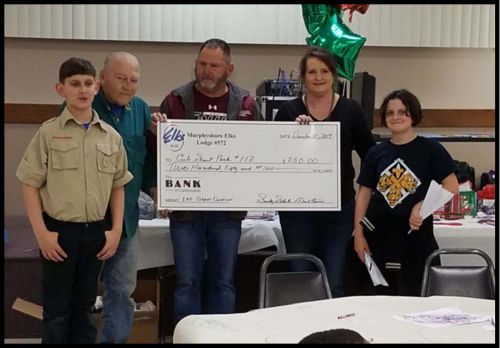 Continuing our efforts to support youth in our community, your Lodge recently presented a check for $250.00 to Cub Scout Pack #112. Pictured above (L-R) are Scout, Zackery Akers; Den Leader, Lewis Akers; E.R., Richard Martin; Scout Master, Holly Wolfe; and Scout, Alayna Evans. The Scouts and parents were at their Christmas Party, in the Lodge Hall, which was donated to them by Lodge #572.
Hoop Shoot Update

This year's Hoop Shoot local competition took place on Saturday, Dec 14th, at Murphysboro High School. Pictured above are the winners from this year's competition. The first place winners advance to the District competition in January. If any first place winner can not attend the District competition, the second place winner will take their place. Individual winners of each category can be viewed here.
Luck Of The Lodge Raffle
Tickets for this year's Luck of the Lodge Raffle are now on sale. The drawing will take place March 7th, 2020. As with previous years' raffle, first prize is $5000.00, tickets are $20 each and only 800 tickets will be sold. Full details are available here.
Sundays Are For Football!
Our Club Room opens at noon on Sundays to watch the games. A list is hanging in the club room, where you can sign up for a Sunday, to provide food to share with everyone. Even if you are not on the list for a given Sunday, feel free to bring a side dish to share. So, why not join fellow Elks and cheer on your favorite team while also enjoying some great food?
Shooting Matches Scheduled For This Year
To continue our tradition of meeting and/or exceeding our Grand Exalted Ruler and State President's ENF per-capita goals for the year, we have completed scheduling of our shooting matches. Put these dates on your calendars & smart phones: January 5 at Shiloh Hill Tavern; January 12, January 26, & February 9 at Crazy Joe's Fish House in Ava. Proceeds from these shooting matches earn our Lodge grant money that we use to benefit our local community. For questions regarding the shooting matches, contact Rick Ehlers at (618)534-1689.
2020 CCC Dart Tournament Seeks Donations
Our 25th Annual CCC Elks Dart Tournament is scheduled for February 29, 2020. We are looking for auction donations, dart board sponsors, and volunteers. We really want to make this 25th Tournament the Best Ever! Please consider committing to help us get an early start toward that goal. We are accepting $25 Donations at the Lodge. We are also planning on placing an Honor Roll of Donors in an issue of the Newsletter (Mail-ins accepted, to our P.O. Box 787, and checks should be made to Illinois Elks Children's Care Corp.). To volunteer, ask questions, etc., please contact Lynn Porter at (618)534-5723, or mlp1986@clearwave.com
Elks National Foundation Most Valuable Student Scholarships
The ENF awards 2.44 Million annually to high school seniors nationwide. A total of 500 Scholarships range from 2 top awards at $50,000 each - to 480 at $4,000 each. Details: This MVS program is open to any high school senior who is a U.S. citizen. Applications are judged on Scholarship; Leadership; and Financial Need. Applications available online only and must be submitted online. For details or to access the application, visit https://www.elks.org/scholars/scholarships/mvs.cfm. Guidance Offices should have information. Selection of winners begins at the local Lodge level and continues through district, state and national judging. Lodge #572 contact is Don Siefert: 618-201-4184 or donnansief@aol.com
ENF Emergency Educational Grants
Provides financial assistance to undergraduate children (under age 24) of deceased or totally disabled Elks in the form of renewable, one-year grants of up to $5,000. Applications available by request between May 1 and October 31 of academic year for which assistance is desired. For details, contact the ENF Office at 773-755-4732, or visit https://www.elks.org/scholars/scholarships/EEFGrants.cfm. Lodge #572 contact for information is Don Siefert: 618-201- 4184 or donnansief@aol.com
ENF Legacy Awards
These 300 scholarships are worth $4,000 ea., and are open to college-bound high school seniors who are children or grandchildren of dues-paying Elks. Applicants compete against other children & grandchildren from the state of their sponsoring Lodge. Judging based on core values of the ENF: Knowledge, Charity, Community Service, and Integrity. Applications available online starting September 1, 2019 and ending on January 31, 2020 at 11:59 a.m. Central Time. For details, visit https://www.elks.org/scholars/scholarships/legacy.cfm. Lodge #572 contact for information is Don Siefert: 618-201-4184 or donnansief@aol.com