The Latest from Lodge 572...
Beacon Grant Approved Again
Each month on the third Tuesday, our Lodge serves lunch to veterans attending the Haven on Crab Orchard Lake for counseling and rehabilitation sessions. Funding for the meals is provided by a $2,000 ENF Beacon Grant. Our application to renew the Beacon Grant was recently approved, allowing us to continue this service to our area veterans.
New Elks Lodge Forming In South District
During the recent Fall Convention of the Illinois Elks Association, paperwork was filed for the formation of a new Lodge. The Lodge will be known as the Johnson County Elks Lodge and will be located in Vienna. They have more than the minimum number of charter members, and all indicators are "go." Congratulations to all those involved in this effort! This will be the first new Lodge in Illinois in over 50 years!!!
Lodge 572 Grows By Another 15!!!
On September 19, 2016, Lodge 572 initiated another 15 members into our Order. Please introduce yourself to our newest members and help them become active members that keep our Lodge the vibrant, active, heart of Elkdom that keeps the Order of Elkdom alive and well....more
Our Flag Team Takes To The Streets Of Marion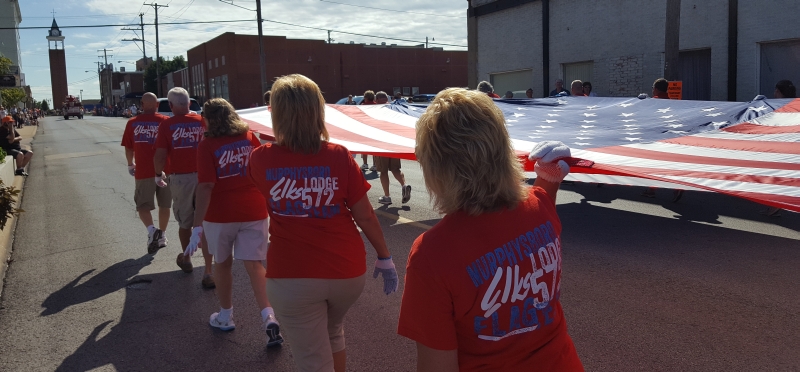 Our Flag Team was asked to participate in this year's annual Veterans on Parade (September 10th) in Marion. It was the perfect opportunity to combine our mission to "quicken the spirit of American patriotism" and show that "as long as there are veterans, the Elks will never forget them." We must have made an impression, because we have already been asked to participate in next's year's event.
On Saturday, September 17th, our Flag Team once again participated in the Murphysboro Apple Festival Grand Parade. While carrying the flag, over 4,000 small flags were distributed to spectators along the route.
Lodge 572 Sponsors Two CCC Scholarship Winners for 2016-2017
We are pleased to announce that the following two students have been awarded Physical/Occupational Therapy Scholarships for the upcoming year. They are as follows: McKenzie Grefe, Steeleville, IL., who will be attending Maryville University, St. Louis, Mo., in the Occupational Therapy Program. Brandon Rickenberg, Campbell Hill, IL., who will be attending SIU-C, in the Physical Therapy Assistant Program. Congratulation to these two individuals, who submitted their applications through Lodge #572. And, members all, remember that our donations to the Illinois Elks Children's Care Corp. makes these scholarship opportunities possible, to the youth of our communities. Elks Care - Elks Share!
Gratitude Grant Helps Local Organizations
By meeting the goals set for raising money for the ENF, our Lodge earned a $2000 Gratitude Grant to help our local community. This money was recently distributed as follows: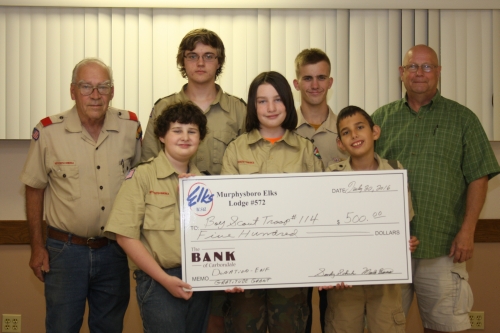 Boy Scout Troop 114 received $500.00. Troop leader Lewis Akers (far left) and Assistant Scout Master Cameron Welch (back row right) shown with Lodge 572 Exalted Ruler Joe Patrick (far right)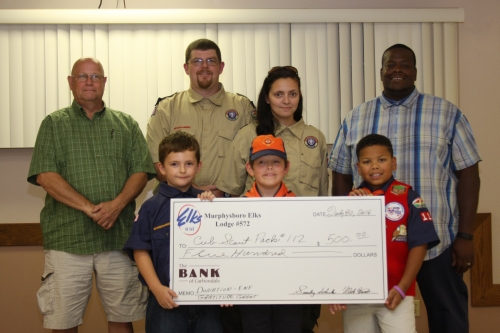 Cub Scout Pack 112 received $500.00. (back row) Lodge 572 Exalted Ruler Joe Patrick, Troop Leader James Heilig, Den Leader Brittni Heilig, Assistant Cub Master Curtis Hubbard.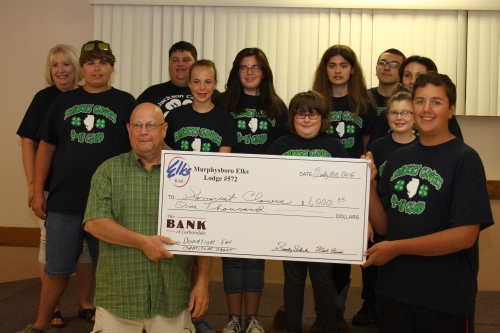 Somerset Clovers 4-H Club received $1000.00. Lodge 572 Exalted Ruler Joe Patrick (holding left side of check) presented the check to 4-H Club Treasurer Asher Yuill (holding right side of check) as Club Leader Rosie Wece (far left) watches.