The Latest from Lodge 572...
Hoop Shoot Update - Regional Competition results
The regional competition for this year's Hoop Shoot competition was held on Saturday, March 10th in Iowa City, Iowa. We received the following report:

"Thank you so much for the local support of Trent as he traveled to Iowa City to compete in the regional contest. He shot 19/25 baskets and ended in fourth place. He is a little bit bummed he didn't place first but ready to come back next year and win!!! Thanks again for the financial support....Hilary Sternberg"

Trent gave his reaction to the experience: "Elks Lodge #572, I love the Hoop Shoot Contest! Winning the local, district, and the state championship for boys age 10-11 was awesome. I had fun in the hotels and met lots of friends. Thank you for the check for gas money too. Trent Sternberg...See you next year when I compete!"
April Newsletter & Calendar Available Online
The newsletter and calendar for April 2018 are now available online. To view/print them, use the links in the nevigation menu.
Lodge 572 Elk Of The Year
| | |
| --- | --- |
| | P.E.R, Steve Zak, is this year's Elk-Of-The-Year for Lodge #572 (Shown accepting award from E. R., Debbie Sauer). Though not an Officer this past year, Steve has continued to serve in the following areas: Americanism Chair; Americanism Essay Contest; Flag Team Coordinator; Orientation Chair; District Ritual Chair; Officer Substitute for #572 Initiation & Memorial Rituals; Webmaster for Lodge #572 (One of Top Websites, Nationally); Card Hanger for ENF Benefit Shooting Matches; and general "Go-To" member for last-minute, Volunteer needs. Good Job, Steve! |
Lodge 572 Welcomes Six New Members
On March 7th, our Lodge brought six new members into the Order. Please introduce yourself and make them feel welcome...more
Lodge 572 Uses Anniversary Grant To Help Veterans
At the Lodge Meeting held on February 7th, the officers and members present voted to write our ENF Anniversary Grant, in the Amount of $1,500.00, to assist the Haven Veteran's Day Center on Crab Orchard Lake, with needed improvements that they might identify. Their Board has decided that new lighting, for security and safety, is a priority. Therefore, our Grant proposal is being written with this goal in mind. Murphysboro Lodge #572 is proud to continue serving and assisting our Veterans!
Annual Dart Tournament
| | |
| --- | --- |
| | The results of our 23rd Annual Dart Tournament are still being tabulated. However, as of March 1st we are looking at a preliminary net result of around $8,800.00. A final figure will appear in our April Newsletter. Thanks, in advance, to all who helped and participated in various ways, and to those who donated live or silent auction items (bidders, too!). And, we certainly want to thank B.J. Wyatt, for all the time and effort he contributed as chairman of our major fundraiser for our Illinois Elks Children's Care Corp. We want to acknowledge our Board Sponsors, as follows: Oliver & Associates; Corner Tavern (M'Boro); Fuzzy's; 13 RF Inc.; Canning Auction Service; Stewart's Auto Body; Edward Jones; B. W. Electric & Locating; Express Towing; First Southern Bank; Lewis Creek Band; Hughes auto Service; Heartland Catering; Schwebel Printing; J & J Ventures; Korner Tavern (Campbell Hill); J. T. Blankenship; In Memory of Brad Wilcox; Midland Inn; MRD Trucking; Old Rome; Roberts Law Firm; Morgan & Guthman, CPA Accountants; Silkworm; James Ferguson; Long Branch Shooting House & Saloon; ICSS Industrial / Commercial Sales; Merle & Kendra Evans; Bank of Carbondale; Distinctive Flooring; David & Emily Flowers; Auto Works; 17 St. B.B.Q.; Fricke Mgt. & Consulting; Samron Midwest Contracting; Fager McGee Construction; Joe's Barber Shop; Apple Tree; Patriots Bravo Co.; W. J. Burke Electric; Steve McGee; PLP Battery Supply; Doug & Patti Carr; Vic Koenig Chevrolet; Mark Kennedy, Great Boars of Fire. |
Family Fun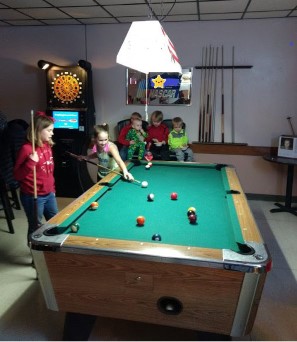 On a recent Friday evening, youths were found enjoying a game of pool in our Club Room, while parents dined and visited. Yes, your Lodge is Family Friendly! Bring out your family, friends, and relatives for a fun time at our Lodge!
New Lodge Year Reminders
When April 1 begins the 2018 - 2019 Lodge year, the new Fawn (beige) membership cards will be required to operate all electronic locks in our Lodge. Remember, a current membership card is required for attendance at all Lodge, House, and Board of Directors meetings. Any member who is not paid by April 1 falls into the "delinquent" category - so take care of this basic and important obligation of membership! Dues notices have been mailed out, many of you have already sent in your dues payment - Thank You! If you did not receive a dues notice, it is your responsibility to contact the Lodge secretary to make sure your dues get paid on time.
As of March 1, the following members have not paid their dues and will be dropped on March 31st: Michael Adams, Paula Carson, Patricia Clark, Chris Cochran, Dr. Edward Conrad, Marty Davis, Janet Faulkner, Bianca Hadsock, Ted Harsha, Jerry Henry, Ben Howard, Richard Kiel, Sharon Leggans, Justin Moniger, Jeremy Pierce, Brad Rife, Ron Schemonia, Clarence Sherman, Jimmie Simmons, Randy Skoffic, Cynthia Smith, Heather Spradling, Ekrin Sweeney, and Jason Wright.
Reminder: if you are dropped from the Lodge membership, you are not allowed entry into the Lodge -- even as a guest.
CCC Benefit Calendars
The Illinois Elks Children's Care Corporation (CCC) mailed out letters for ordering this year's Children's Benefit Calendar. If you did not receive the letter, lost it, or would like to purchase additional calendars, they are available in the Club Room. Calendars are $20 each and enter you into 262 drawings, with prizes ranging from $50 to $5,000.
Lodge 572 Helps Provide Assistance Dogs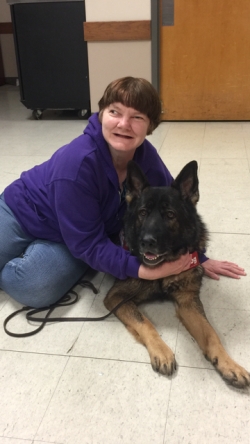 Gary and Amy Kline from Amynta Kennels in Murphysboro recently brought their service dogs Nikki and Pheobe to spend the evening with the folks at the Start Dance. After a demonstration, the clients were able to interact with the dogs by walking them at a heel around the Lodge. This was the first time many of these folks have had this type of interaction with a dog. Lodge #572 awarded $1,000 from our ENF Gratitude Grant to Amynta Kennels. They are working with the Illinois Dept. of Corrections, in a joint effort to rescue dogs from area shelters, and with the help of prisoners, train the selected animals as companion, therapy, and service dogs.