The Latest from Lodge 572...
Lodge 572 Helps Provide Assistance Dogs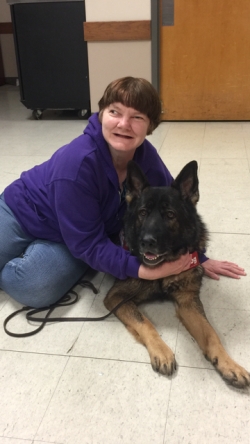 Gary and Amy Kline from Amynta Kennels in Murphysboro recently brought their service dogs Nikki and Pheobe to spend the evening with the folks at the Start Dance. After a demonstration, the clients were able to interact with the dogs by walking them at a heel around the Lodge. This was the first time many of these folks have had this type of interaction with a dog. Lodge #572 awarded $1,000 from our ENF Gratitude Grant to Amynta Kennels. They are working with the Illinois Dept. of Corrections, in a joint effort to rescue dogs from area shelters, and with the help of prisoners, train the selected animals as companion, therapy, and service dogs.
December Newsletter & Calendar Online
The December newsletter and calendar are now available for viewing and/or printing. To access them, use the links in the menu on the left.
Memorial Service
The annual memorial service for members of Lodge 572 that have passed over the last twelve months will be held on Sunday, December 3rd, at 1:30 pm in the Lodge hall. Please make it a point to attend and honor those who are no longer with us.
Upcoming Events
There are several events coming up in December. Mark your calendars and watch for more information here and in the December newsletter.
The local Hoop Shoot contest will take place on Saturday, December 9th at Murphysboro High School. Registration starts at 12:30 pm. Volunteers will be needed.
The children's Christmas party will be held on Sunday, December 17th, in the Lodge hall.
A New Year's Eve party will be held with Lewis Creek Band providing entertainment. Tickets will be $20 per person.
Shedding A Little Light
A special Thank You goes out to member Billy Woosley, who graciously volunteered to correct a long-standing problem with the outside flag lighting in front of our Lodge. Since construction of our building in 1996, the lights have repeatedly shorted out due to heat and moisture. Thanks to Billy, our flag group is now illuminated at night with modern LED lighting that should hold up to any weather conditions. Take a look as you drive by — the effect is great — and all at no cost to the Lodge, as both materials and labor were donated!
Annual Nut Sale
Our annual "Scholarship Nut Sale" is officially underway! Our order with the Thames Nut Company has arrived. Thames informed us that due to rising costs and losing about 30% of their crop due to the hurricanes this year, the cost of the certain nuts have gone up. Therefore, we will be forced to adjust our prices accordingly. We will need to charge $11 per bag for pecan halves, pecan pieces, and cashews this year. All the other nuts will remain at last year's price of $10. Full information can be found here.
Barstool Campaign Update
Our initial order of some 19 bar stools has arrived. They will soon be assembled and the donation plaques attached. Watch for their arrival in the Club Room! Our initial goal was some 30 stools, so our 2nd order is now being taken You can still purchase and donate a barstool for $150. This will also allow you to have an engraved plate attached, stating either "Donated by...", or "In Memory of..." These units are Commercial Black Bucket Seats with White Stitching and Deluxe Casino-Style Bases. See Club Room Manager, Dianne, to place your order and indicate what name you want placed on the engraved plate. Let's get the Club Room updated, and perhaps a little more comfortable!
Help Area Veterans
Our 4th year of applying our ENF Beacon Grant to providing a monthly meal for veterans attending support meetings at the Haven on Crab Orchard Lake is well under way. We do need volunteers to help deliver and serve meals, clean up, and importantly.....visit with these veterans who are in need of various services. The November meals will be on the regular 3rd Tuesday schedule (11/21), but the December date will be the 2nd Tuesday (12/12), due to Christmas calendar adjustments. Plan to be at the Haven by 10:30 a.m. For more information, check with E. R. Debbie Sauer (618)319-2657, or Patty Stokes (618)924-8184.
ENF Emergency Grant Award
We have been notified by the Elks National Foundation that an Emergency Grant Scholarship will continue for yet another year for Sarah Mueller of Chester, Illinois. Sarah's father, David Mueller, passed away while a member in good standing of our Lodge, setting up a multiple-year scholarship option for Sarah. We are pleased to see one of the great programs of the ENF coming home to a family of Lodge #572, and reminding us that "Elks Care - Elks Share."
ENF Shooting Matches
Mark your calendars - this year's shooting matches have been scheduled for January 7th at Shiloh Hill and January 21st & February 25th at Crazy Joe's. Watch for more information.