The Latest from Lodge 572...
Lodge Golf Scramble Rescheduled
Due to the rainy weather, this year's Lodge golf scramble has been rescheduled for Saturday, June 29th at Jackson County Country Club. Sign-up at 11:00, tee off at 12:00. Fees: $65/person; 4-person team. Included are a pork steak dinner & prizes at the Lodge. First 20 paid teams to register at Lodge will play. For more information: Donnie Cochran@303-0451; Richard Martin@791-9245; Harold Sheffer@559-9214; or Darcie Hastings@521-6050.
Lodge 572 Welcomes Nine New Members
On June 19th, Lodge 572 initiated nine new members into our Order. Please be sure to introduce yourself and make them feel welcome...more
2019 Illinois Elk of the Year
Our Lodge has been honored once again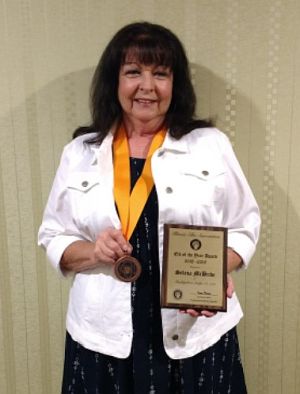 by having one of our members being named as the Illinois Elk of the Year by the Illinois Elks Association. During the May 2019 Illinois Elks State Meeting, our own Selena McBride was honored as being the 2018-2019 Elk of the Year for the state of Ilinois. It should be mentioned that Selena continues a rather enviable credit to our Lodge as the Elk of the Year. Three years ago, Lodge 572 member Rick Ehlers was selected as Illinois Elk of the Year. Two years ago, Lodge 572 member Chuck Fager was selected as Illinois Elk of the Year. Last year, Lodge 572 member Steven Zak was selected as Illinois Elk of the Year. This makes the fourth consecutive year that a member of our Lodge was selected as the Illinois Elk of the Year. We must be doing something right....
Recognizing Youth Achievement in our Communities
On May 8th, PER, Ed Fisher, represented our Lodge in presenting Murphysboro Elks, Student-Of-The-Year award letters to two Chester High School Seniors, who were selected from those students who had previously won Elk Student-Of-The-Month honors at CHS. The two winners were Jakob Cushman
and Shea Petrowske. Included with the letters were checks for $100 each, as a way of complimenting these two excellent students, for their hard work and accomplishments. Then, on May 14th, PER and Scholarship Chairman, Merle Evans, attended the Murphysboro High School Senior awards Night, and presented the Lodge 572, Local Elks Scholarship to Eboni Clark. This Scholarship from our Lodge, is in the amount of $600.00. She is planning to attend SIU-E, with a major in Psychology. Congratulations to Eboni!