The Latest from Lodge 572...
Hoop Shoot Update
The local competition for this year's Hoop Shoot competition was held on Saturday, December 9th. The total number of participants was down, but it was wonderful to see participants from our hometown of Murphysboro!! First place winners in each group competed at the district competition in Anna on January 13

th

. 9 year old Elly Buch (St. Marks Lutheran, Steelville) and 11 year old Trent Sternberg (Red Bud Elementary) won their groups. They will now advance to State competition in Decatur, on February 24

th

. Good Luck to both!
Bag Toss Tournament
A Bag Toss Tournament will be held in our Lodge Hall on Sunday, February 18th! Sign-up begins at 2:00 p.m., with play starting at 3:00 p.m. Entry Fee for 2-person teams is $30.00, with three divisions (Mixed; Men; and Women). There will also be a 50/50 Raffle. Elk Bag Tossers....we know you're out there! So, get this on your calendars. For questions or further information, please contact Eric Clendenin, at (618)534-3222.
CCC Dart Tournament
The 23rd annual Murphysboro Lodge 572 Elks Charity Dart Tournament will take place on Saturday, February 24th. This is our Lodge's biggest fundraiser for the Illinois Elks Children's Care Corporation (CCC). Here are the details:
Blind draw/501/cricket/choice tournament
Signup from 1:00 - 2:30 pm. Play begins at 3:00 pm
Entry fee is $10 with a guaranteed payout of $1,000!
Raffle drawing (2 chances to win): Newave Brio air fryer or $50
Silent & live auction - prize wheel - gun raffle
For donations, sponsorships, or questions call BJ Wyatt (618)684-3911 or contact the Lodge. Volunteers are needed. Please contact BJ Wyatt to find out what you can do to make this year's tournament a success!
Final ENF Shooting Match
Our annual shooting matches to benefit the Elks National Foundation (ENF) are almost complete. The final match will be Sunday, February 25th at Crazy Joe's Fish House. The shooting matches are for "field guns" only: no scopes or pucker guns, .670 maximum choke. Along with the shooting contest, there will be free food, various raffles, and 50/50 drawings. Even if you don't shoot, come out and enjoy the day while helping our Lodge meet its ENF goal for the year so we can qualify for grants to help our local community. Volunteers are needed. For more information contact Rick Ehlers at (618)534-1689.
Luck Of The Lodge Raffle
This year's Luck of the Lodge raffle is underway. The drawing will take place Saturday, March 10th. First prize is $5,000. Tickets are selling fast. Be sure to get yours before they are gone!...more
Family Fun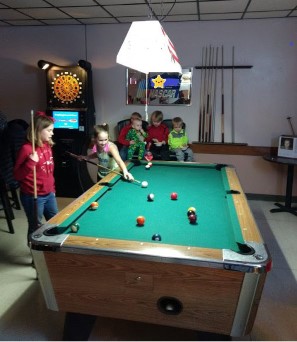 On a recent Friday evening, youths were found enjoying a game of pool in our Club Room, while parents dined and visited. Yes, your Lodge is Family Friendly! Bring out your family, friends, and relatives for a fun time at our Lodge!
CCC Benefit Calendars
The Illinois Elks Children's Care Corporation (CCC) mailed out letters for ordering this year's Children's Benefit Calendar. If you did not receive the letter, lost it, or would like to purchase additional calendars, they are available in the Club Room. Calendars are $20 each and enter you into 262 drawings, with prizes ranging from $50 to $5,000.
Annual Nut Sale Update
Our annual "Scholarship Nut Sale" is moving swiftly! As of January 1, we are sold out of Gourmet Mixed Nuts and Cashews. The other varieties are still available. Full information can be found here.
Lodge 572 Helps Provide Assistance Dogs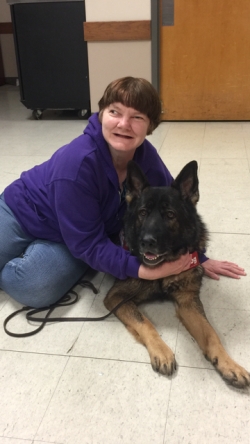 Gary and Amy Kline from Amynta Kennels in Murphysboro recently brought their service dogs Nikki and Pheobe to spend the evening with the folks at the Start Dance. After a demonstration, the clients were able to interact with the dogs by walking them at a heel around the Lodge. This was the first time many of these folks have had this type of interaction with a dog. Lodge #572 awarded $1,000 from our ENF Gratitude Grant to Amynta Kennels. They are working with the Illinois Dept. of Corrections, in a joint effort to rescue dogs from area shelters, and with the help of prisoners, train the selected animals as companion, therapy, and service dogs.
Helping Area Veterans
The proceeds from this year's Christmas Showcase enabled us to donate $302 to the 1344th National Guard children's Christmas party... PER's Ed Fisher and Steve Schemonia worked together to visit veterans in assisted living and residential facilities in Randolph and Jackson counties...Our 4th year of applying our ENF Beacon Grant to providing a monthly meal for veterans attending support meetings at the Haven on Crab Orchard Lake continues. The group fed during the December gathering was especially large. We do need volunteers to help deliver and serve meals, clean up, and importantly - visit with these veterans who are in need of various services. Plan to be at the Haven by 10:30 a.m. For more information, check with E. R. Debbie Sauer (618)319-2657, or Patty Stokes (618)924-8184.
ENF Emergency Grant Award
We have been notified by the Elks National Foundation that an Emergency Grant Scholarship will continue for yet another year for Sarah Mueller of Chester, Illinois. Sarah's father, David Mueller, passed away while a member in good standing of our Lodge, setting up a multiple-year scholarship option for Sarah. We are pleased to see one of the great programs of the ENF coming home to a family of Lodge #572, and reminding us that "Elks Care - Elks Share."