The Latest from Lodge 572...
Lodge 572 Sponsors Two CCC Scholarship Winners for 2016-2017
We are pleased to announce that the following two students have been awarded Physical/Occupational Therapy Scholarships for the upcoming year. They are as follows: McKenzie Grefe, Steeleville, IL., who will be attending Maryville University, St. Louis, Mo., in the Occupational Therapy Program. Brandon Rickenberg, Campbell Hill, IL., who will be attending SIU-C, in the Physical Therapy Assistant Program. Congratulation to these two individuals, who submitted their applications through Lodge #572. And, members all, remember that our donations to the Illinois Elks Children's Care Corp. makes these scholarship opportunities possible, to the youth of our communities. Elks Care - Elks Share!
Gratitude Grant Helps Local Organizations
By meeting the goals set for raising money for the ENF, our Lodge earned a $2000 Gratitude Grant to help our local community. This money was recently distributed as follows: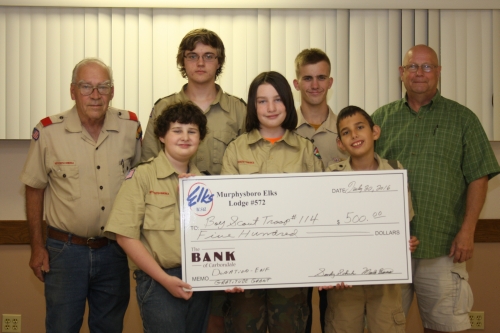 Boy Scout Troop 114 received $500.00. Troop leader Lewis Akers (far left) and Assistant Scout Master Cameron Welch (back row right) shown with Lodge 572 Exalted Ruler Joe Patrick (far right)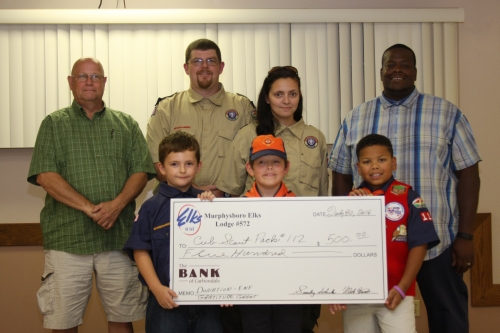 Cub Scout Pack 112 received $500.00. (back row) Lodge 572 Exalted Ruler Joe Patrick, Troop Leader James Heilig, Den Leader Brittni Heilig, Assistant Cub Master Curtis Hubbard.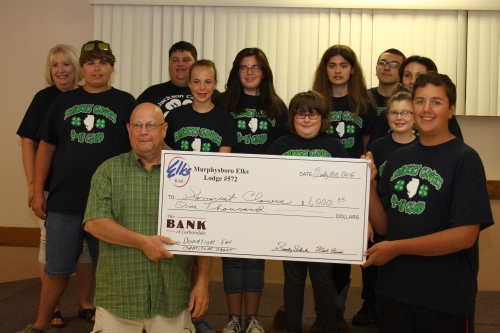 Somerset Clovers 4-H Club received $1000.00. Lodge 572 Exalted Ruler Joe Patrick (holding left side of check) presented the check to 4-H Club Treasurer Asher Yuill (holding right side of check) as Club Leader Rosie Wece (far left) watches.
First Queen of Hearts Game Has a Winner
The first Queen of Hearts game ended on June 21st when the Queen was finally uncovered. Congratulations to Sharee Swanson, who correctly picked the location of the elusive Queen of Hearts. A new game begins on June 28th.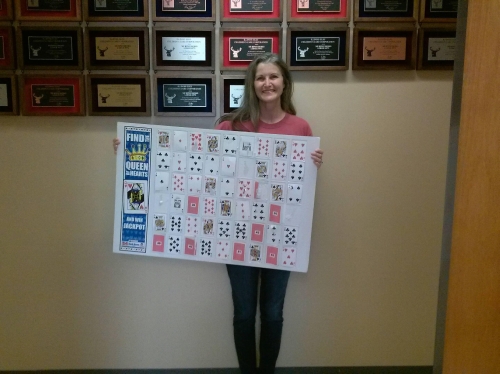 Lodge 572 Flag Team Presents Flag at Bocce Tournament
To celebrate Flag Day, our Flag team presented our nation's flag during an opening ceremony for the Bocce Tournament held on June 11th at Riverside Park. Thank you to all who participated and attended this recognition of the symbol of our country.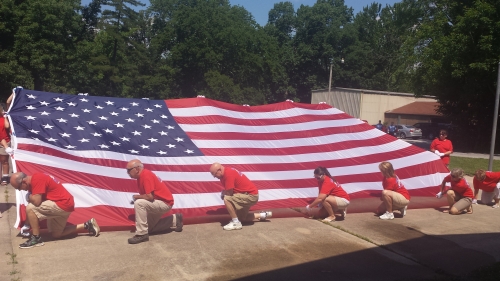 Ten New Members Initiated Into Lodge 572
On June 1, our Lodge initiated ten new members into our Order. Please be sure to introduce yourself and make our newest members feel welcome...more
Veterans Lunch At The Haven
Each month on the third Tuesday, our Lodge serves lunch to veterans attending the Haven on Crab Orchard Lake for counseling and rehabilitation sessions. Volunteers are being sought to help out. If you would like to help out, please contact the Lodge. Funding for the meals is provided by a $2,000 ENF Beacon Grant.